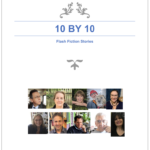 Welcome to Issue #3 of 10 By10 Flash Fiction Stories. Ten more outstanding flash fiction writers are featured, each contributing one story to 10 By 10.
This issue opens with Phil Temples's story about a college professor and her students. His protagonist fulfills the dream of anyone who has ever taught at the college level. Andrea Marcusa's story has a touch of the supernatural while bringing to mind the saying, "There's no place like home." New Zealander Sandra Arnold writes about what happiness is aiming to make us all think about what makes us happy. John Sheirer writes about death with a kicker ending reminding us all may it not be what it appears to be. Marie C. Lecrivain tells us about something her main character cannot escape; perhaps none of us can. Laurie Rosen's story is offbeat and funny, while David Galef views school as prison, or is it the other way around? Foster Trecost has us thinking about happy hours and funerals. Dan Keeble in the UK writes a humorous story about a lady in a grocery store while Cindy Rosmus relates a different kind of funeral tale.
This publication for readers of all genres is both as an introduction to the flash fiction genre, its many permutations and the writers who produce these enjoyable tales. I hope you enjoy the stories and delve further into each writer by reading their other works. These are multi-talented writers whose work is thought provoking and entertaining.
So, enter these pages and read the ten writers in 10 by 10.